CelebrityTV News
Game of Thrones 8x05: le immagini più divertenti dal dietro le quinte
di Giulia Greco - | aggiornato
Gli attori di Game of Thrones hanno condiviso sui loro profili Instagram foto divertenti dal set del penultimo episodio della serie.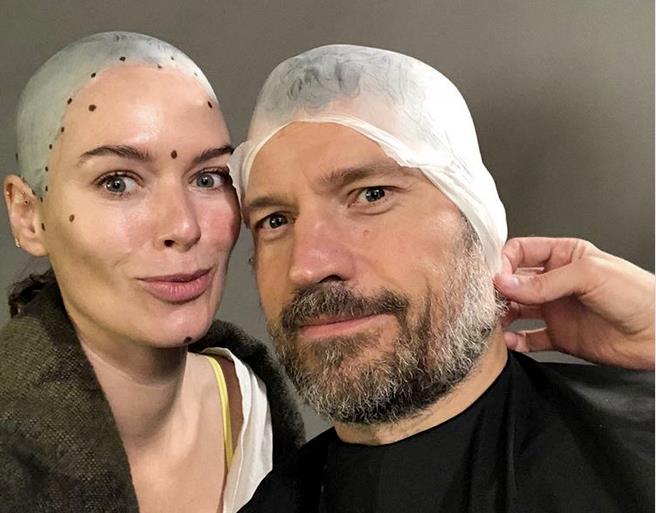 Lena Headey/Instagram
36 condivisioni 0 commenti
L'ottava e ultima stagione di Game of Thrones sta per volgere al termine. Manca un solo episodio per scoprire come si concluderanno le avventure di Jon Snow e soci, ma già la penultima puntata ha segnato il destino di molti personaggi.
Se il pubblico è rimasto col fiato sospeso nel vedere la furia di Daenerys in groppa a Drogon e la fine di Cersei, gli attori si sono divertiti a pubblicare su Instagram le foto più divertenti del dietro le quinte.
Lena Headey ha detto addio al controverso personaggio della regina Cersei Lannister, a cui ha dato il volto per otto stagioni.
È stato divertente ed entusiasmante. L'ho amata. Sono grata per l'opportunità che mi è stata data. E ora la sua guardia si è conclusa (so che non era nei Guardiani della Notte, la Confraternita non glielo avrebbe mai permesso... ma comunque...)
Poi, rivolta ai suoi fan, ha scritto:
Sono immensamente grata per l'immenso amore che mi avete dimostrato.
L'attrice ha poi condiviso un video dal set della serie HBO in cui la regina dei Sette Regni è in compagnia di Pilou Asbæk, il malvagio pirata Euron Greyjoy, e Anton Lesser, interprete di Qyburn, Primo Cavaliere alla corte di Cersei.
La Headey ha condiviso uno scatto con Nikolaj Coster-Waldau, l'attore che interpreta il fratello gemello e amante Jaime Lannister, morto assieme alla donna che ha amato per tutta la vita durante l'assedio di Approdo del Re.
Quella volta in cui io e Nikolaj Coster-Walday abbiamo indossato due meduse... Ti voglio bene, stramboide.
Waldau ha ricambiato con una serie di foto, direttamente dal set della loro ultima scena insieme.
L'attore danese ha scritto:
La migliore, la più dolce e più meravigliosa sorella televisiva. Sono stati dieci anni divertenti.
La Headey ha pubblicato pure una foto tratta dall'episodio 4, quello in cui abbiamo detto addio alla dolce Missandei di Naath, e si è detta davvero dispiaciuta di averla uccisa sul set.
Sei bellissima, Nathalie Emmanuel. Sei stata simbolo di speranza e di forza. Non mi è piaciuto affatto quel giorno.
Cersei, Jaime e Missandei non sono stati gli unici personaggi ad averci abbandonato. Probabilmente siamo stati tutti felici di dire addio a Euron Greyjoy e a Gregor Clegane, la Montagna.
Hafþór Júlíus Björnsson ha postato video e foto in cui, col trucco di scena, gioca con la fidanzata Kelsey Henson.
Pilou Asbæk ha pubblicato foto prima e dopo la messa in onda dell'episodio. Ha ringraziato il reparto tecnico della serie e i compagni di set, in particolare gli stuntman, che fanno da controfigure agli attori rendendo possibili acrobazie e sequenze d'azione.
Ha detto grazie anche a Coseter-Waldau, dicendosi deliziato di aver avuto l'opportunità di lavorare con lui nel corso dell'ultimo paio d'anni.
Infine, ha postato uno scatto insieme a Lena Headey e ha scritto:
È stata una fortuna fare la conoscenza di Lena Headey. Grazie per le ore trascorse insieme... Ricordo quando abbiamo scattato questa foto. Era il primo giorno di riprese per l'ottava stagione... È trascorso tanto tempo... Ho adorato lavorare con te!!
Causa della dipartita di così tanta gente è stata Daenerys Targaryen. Emilia Clarke, l'attrice che la interpreta, ha postato una foto sul proprio profilo Instagram in cui si prepara a indossare la parrucca platinata della regina dei draghi. Emilia ha scritto:
Ecco cosa ci vuole non solo per girare l'episodio 5... ma anche per guardarlo!
L'episodio finale di Game of Thrones, arriverà lunedì 20 maggio alle 3:00 del mattino su Sky Atlantic.