Celebrity
Sophie Turner beve vino meglio di Cersei in GoT: il divertente video
di Giulia Greco - | aggiornato
Sansa Stark ha imparato molto dalla regina Cersei Lannister e lo stesso possiamo dire di Sophie Turner, che si è dimostrata una bevitrice eccellente durante una partita di hockey.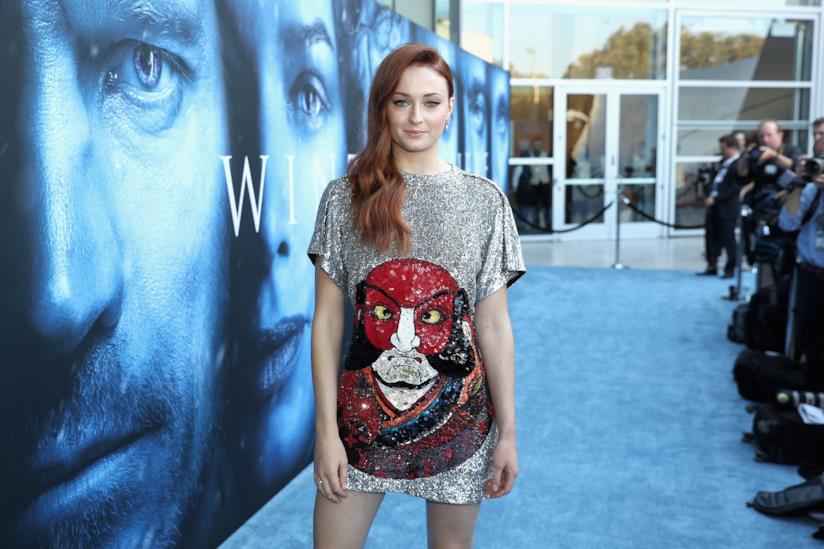 Getty Images
758 condivisioni 0 commenti
È inevitabile per il cast di Game of Thrones essere sempre al centro dell'attenzione. È successo a Sophie Turner, interprete di Sansa Stark nello show targato HBO.
La bella attrice si trovava tra il pubblico durante una partita di hockey disputata tra i New York Rangers e i Detroit Red Wings al Madison Square Garden di New York City. A un certo punto, il suo viso è apparso sul maxischermo e la Turner ha rubato la scena a tutti, giocatori inclusi. Ha alzato il suo bicchiere di vino e l'ha bevuto tutto d'un fiato! Sembra proprio che abbia imparato molto da Cersei Lannister e da suo fratello Tyrion, che di vini se ne intendono parecchio.
Con la bevanda che colava dagli angoli della bocca e il pugno alzato in segno di vittoria, Sophie è diventata in men che non si dica una vera e propria leggenda secondo gli utenti dei social media. Ha condiviso il video sul suo profilo Instagram e ha brindato così alla casa Stark!
Sophie Turner non era sola alla partita, ma in compagnia del fidanzato Joe Jonas, che si trovava proprio accanto a lei e guardava, divertito, la scena sullo schermo.
March 20, 2019
Il video in cui Sophie tracanna vino è diventato subito virale e ha collezionato centinaia di commenti.
This photo of @SophieT with wine running down her face is a mood, and I Stan. #QueenoftheNorth pic.twitter.com/abH7NULhmt

— 🍭Emily Robison🍭 (@EmRob2696) March 21, 2019
Questa foto di Sophie Turner col vino che le cola sul viso è uno stile di vita, e io ne sono ossessionata.
That mouth wipe at the end there is evidence that Sophie Turner is a class drinker and I respect her even more now for it pic.twitter.com/5VLzvw9tmB

— Jou (@JouShiraishi) March 20, 2019
Il vino che cola alla fine è la prova che Sophie Turner è una bevitrice di classe e la rispetto ancora di più per questo.
I was two feet away from Joe Jonas and Sophie Turner and they're absolute legends. Sophie is me chugging the wine

— Marissa Guerra (@missa__gee) March 20, 2019
Ero a mezzo metro di distanza da Joe Jonas e Sophie Turner, sono due leggende assolute. Sophie si scola il vino come faccio io.
i have never related to anything more than sophie turner chugging red wine on the jumbotron at the rangers game

— iOSophie 24.1 (@sophie_miriam) March 20, 2019
Sophie Turner che beve vino rosso sul maxischermo durante una partita dei Rangers è la cosa a cui mi sento più vicina.
.@SophieT chugging her wine at a hockey game (tragically NYR but w/e) solidifies the fact that she was, is, and always will be an absolute legend #queen #ilysm

— alley (@alleyjordan13) March 20, 2019
Sophie Turner che beve vino a una partita di hockey è una conferma del fatto che lei era, è e sempre sarà una leggenda assoluta.
Seeing Sophie Turner down her red wine at the hockey is the highlight of my week. Queen of the North @SophieT #iconic

— Donna Lovric (@donata_lovric) March 20, 2019
Vedere Sophie Turner bere vino rosso a una partita di hockey è il momento migliore della settimana. La Regina del Nord.
The North remembers... unless they chug wine #GOT 🍷🐺 LOVE @SophieT pic.twitter.com/tEHqE0nCYk

— Alex Norton (@iamalexnorton) March 20, 2019
Il Nord ricorda... a meno che non tracanni vino.
I'm convinced @SophieT is my spirit animal..her chugging wine at a hockey game = mood pic.twitter.com/sTZdmIGwKI

— Martha 🍭 (@xblindinglight) March 20, 2019
Sono convinta che Sophie Turner sia il mio spirito animale... lei che beve vino a una partita di hockey è uno stile di vita.
Sophie Turner from Game of Thrones is here and just downed a whole glass of wine in one gulp. That, by far, got the biggest cheers of the night.

— Mike Ashmore (@mashmore98) March 20, 2019
Sophie Turner di Game of Thrones si è scolata un bicchiere di vino in una sola sorsata. E questo, di gran lunga, si merita il più grosso applauso della serata.
Sophie Turner got put on the Jumbotron at a hockey game so she dabbed and downed her entire glass of wine. The Queen Westeros needs.

— Alyssa Cooper (@chilllyssa) March 20, 2019
Sophie Turner è apparsa sul maxischermo di una partita di hockey, così ha preso il suo bicchiere di vino e l'ha buttato giù in un colpo solo. È la regina di cui Westeros ha bisogno.
Chissà se sarà proprio Sansa a conquistare il Trono di Spade. Per scoprirlo, non resta che attendere ancora poche settimane: Game of Thrones tornerà infatti il 14 aprile su Sky Atlantic.