CinemaTV NewsFumetti
Grey's Anatomy Le regole del delitto perfetto
GLAAD Media Awards 2017: la lista delle nomination ufficiali
Il candidato all'Oscar Moonlight e due produzioni di Shondaland sono tra i nominati ai 208esimi GLAAD Media Awards.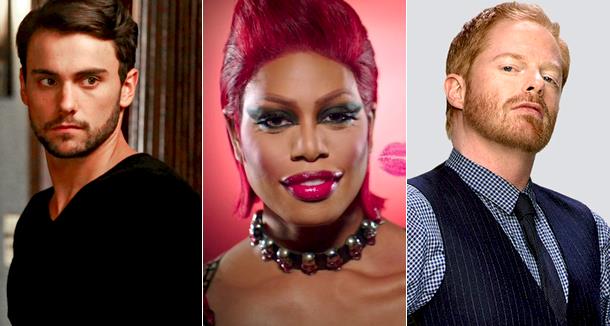 34 condivisioni 0 commenti 4 stelle
Le nomination ai GLAAD Media Awards 2017 sono state annunciate.
I premi si pongono l'obiettivo di riconoscere e onorare i media per la loro rappresentazione "corretta, accurata e inclusiva" dei membri della comunità LGBTQ e dei problemi che questi incontrano nella loro vita quotidiana. Quest'anno, a contendersi il titolo di miglior film c'è anche Moonlight, già in corsa agli Oscar 2017. Suo avversario diretto è Star Trek Beyond, terzo capitolo della saga cinematografica riavviata da JJ Abrams che ha sorpreso alcuni fan confermando il personaggio di Hikaru Sulu come omosessuale.
Sul fronte televisivo, la lotta è veramente aperta: sono ben 10 per categoria le produzioni a contendersi il titolo di miglior commedia e miglior serie drammatica. Qui, lo scontro è anche tra due produzioni di Shondaland: Grey's Anatomy e Le Regole del Delitto Perfetto.
Quasi d'obbligo anche la presenza tra i candidati del remake targato FOX USA del Rocky Horror Picture Show, lo special televisivo che ha visto Laverne Cox nei panni del Dottor Frank n Furter.
Di seguito, ecco la lista completa delle nomination ufficiali ai GLADD Media Awards 2017 per le categorie cinema e TV, musica e fumetti.
Miglior Film (release internazionale)
Miglior Film (release limitata)
The Handmaiden (Agassi)
Naz & Maalik
Other People
Spa Night
Those People
Miglior serie TV - Commedia
Brooklyn Nine-Nine
Crazy Ex-Girlfriend
Grace and Frankie
One Mississippi
The Real O'Neals
Steven Universe
Survivor's Remorse
Take My Wife
Transparent
Miglior serie TV - Drammatica
The Fosters
Hap and Leonard
The OA
Orphan Black
Shadowhunters
Shameless
Supergirl
Wynonna Earp
Miglior episodio (in una serie senza personaggi LGBTQ nel cast principale)
Attention Deficit, The Loud House
Bar Fights, Drunk History
Johnson & Johnson, Black-ish
San Junipero, Black Mirror
Vegan Cinderella, Easy
Miglior Film per la TV o Serie Limitata
Eyewitness
London Spy
Looking: The Movie
Vicious: The Finale
Miglior documentario
Mapplethorpe: Look at the Pictures
Out of Iraq
The Same Difference
Southwest of Salem: The Story of the San Antonio Four
The Trans List
Miglior reality
Gaycation
I Am Cait
I Am Jazz
The Prancing Elites Project
Strut
Miglior artista musicale
Against Me!, Shape Shift With Me
Blood Orange, Freetown Sound
Brandy Clark, Big Day in a Small Town
Tyler Glenn, Excommunication
Ty Herndon, House on Fire
Elton John, Wonderful Crazy Night
Lady Gaga, Joanne
Frank Ocean, Blonde
Sia, This is Acting
Tegan and Sara, Love You to Death
Miglior fumetto
All-New X-Men, scritto da Dennis Hopeless
Black Panther, scritto da Ta-Nehisi Coates
DC Comics Bombshells, scritto da Marguerite Bennett
Kim & Kim, scritto da Magdalene Visaggio
Love is Love, anthology originated by Marc Andreyko
Lumberjanes, scritto da Shannon Watters, Kat Leyh
Midnighter / Midnighter and Apollo, scritto da Steve Orlando
Patsy Walker, A.K.A Hellcat!, scritto da Kate Leth
Saga, scritto da Brian K. Vaughan
The Woods, scritto da James Tynion IV
Per le nomination complete, che includono anche le categorie giornalistiche e gli articoli su testate di settore, vi rimandiamo al sito ufficiale del GLAAD Media Awards.
Le ceremonie di premiazione si svolgeranno a Los Angeles il 1 aprile e a New York il 6 maggio 2017.